Small Things Bring Eternal Connections- By Edward Lee on Nov 12, 2015

When I read the Bible, a book of eternal dimensions in more ways than one, I try to imagine what it was like to live in the Holy Land during the days of David and Jesus. And it's certainly on my bucket list to visit Israel one day.  I've never been to Israel. But I try to keep tabs on what is currently happening there through news feeds. I also connect with that nation and her people through prayer as the Bible exhorts me to: 
Pray for the peace of Jerusalem: "May those who love you be secure.
 -Psalms 122:6  

    Another way I try to connect is by purchasing items made there. So far I've purchased bracelets and pendants for myself and as gifts for friends. I will soon purchase a shofar to blow before my times of prayer and worship even if I still have to find out what my neighbors might think of that. Yet, it's not only a physical connection with the land and people that I seek to make. There is also the spiritual connection. As a Christian I have learned that my father is Abraham through faith.
Therefore, the promise comes by faith, so that it may be by grace and may be guaranteed to all Abraham's offspring–not only to those who are of the law but also to those who have the faith of Abraham. He is the father of us all.
 -Romans 4:16 Thus I feel I have a sacred responsibility to support my spiritual brethren in Israel. One of the items I bought was a pendant with the Star of David. But I don't wear it. Instead, I leave it hanging on the door to my home. So, every time I step out to go about my day, I take a look at that emblem.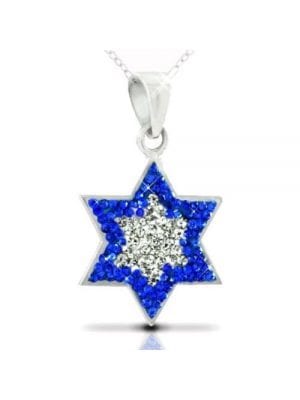 Yet, it has become more than an emblem. I am reminded of a spiritual legacy passed on to me through my Christianity. I am grateful for today because of the history of an ancient land and people. I am joyful that I serve a God who moved among that ancient people and still moves today. And I am encouraged to be a peacemaker. Small things, some might say. But they do bring eternal connections – within and without.